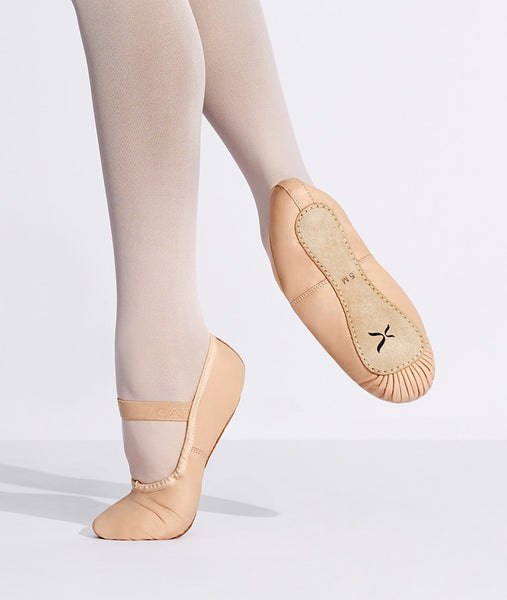 Capezio
Capezio Leather "Clara" Ballet Slippers (Full-Sole)
The Clara offers versatility to achieve an even greater fit and refined aesthetic line. With a suede sock lining and stitched suede full sole, the resistance will encourage dancers to strengthen their foot muscles.
From store to studio, the Clara is ready to wear with pre-attached elastics over the instep. The Clara ballet slipper, designed for Australian dancers, by Australian dancers.
Colour: Ballet Pink
Available in Narrow or Medium Width
 * Note: Inside measurements are provided as a guide, they are approximate and not a guarantee. Actual fit can differ.
Childs - $50.00

Size 8.5 - To fit 14.5cm - 15cm
Size 9.0 - To fit 15cm - 15.5cm
Size 9.5 - To fit 15.5cm - 16cm
Size 10 - To fit 16cm - 16.5cm
Size 10.5 -To fit 16.5cm - 16.75cm
Size 11.0 - To fit 16.75cm -17.0cm
Size 11.5 - To fit 17.0cm - 17.50cm
Size 12.0 - To fit 17.50cm - 17.75cm
Size 12.5 - To fit 17.75cm - 18.0cm
Size 13.0 - To fit 18.0cm - 18.5cm
Size 13.5 - To fit 18.5cm - 19.0cm
Size 1.0 - To fit 19.0cm - 19.5cm
Size 1.5 - To fit 19.5cm - 20.0cm

Adult - $52.00

5.0 - To fit 20.0cm -20.5cm
5.5 - To fit 20.5cm - 21.0cm
6.0 - To fit 21.0cm - 21.5cm
6.5 - To fit 21.5cm - 22.0cm
7.0 - To fit 22.0cm - 22.5cm
7.5 - To fit 22.5cm - 23.0cm
8.0 - To fit 23.0cm - 23.5cm
8.5 - To fit 23.5cm - 24.0cm
9.0 - To fit 24.0cm - 24.5cm
9.5 - To fit 24.5cm - 25.0cm
10.0 - To fit 25.0cm - 25.5cm